This post has several quotes by the great businessman Henry Ford. There were too many to choose from to just pick one, so I posted five.
(Quotes provided by Brainy Quote)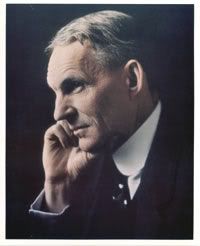 "An idealist is a person who helps other people to be prosperous."
"Don't find fault, find a remedy."
"Enthusiasm is the yeast that makes your hopes shine to the stars. Enthusiasm is the sparkle in your eyes, the swing in your gait. The grip of your hand, the irresistible surge of will and energy to execute your ideas."
"If you think you can do a something or if you think you can't, either way you're right."
"Obstacles are those frightful things you see when you take your eyes off your goal."
To motivating you on this marvelous Monday!
The Unemployed [but Empowered and Motivated] Entrepreneur